feature in evergreen review: summer 2020 issue

we take pictures so we can forget
, 35mm slide film
rusted radishes: beirut literary and art journal issue 8: sea change
publication launch
friday, december 13, 2019
6:30 pm
barzakh bookstore
beirut, lebanon
how did we predict the sea change that would come upon us? the sea told us.
rusted radishes: beirut literary and art journal
was founded by rima rantisi and crystal hoffman of the american university of beirut in 2012 with the intention of creating a space for both emerging and established writers and artists who have a connection to lebanon. over the years, we have published diverse work from bordering countries, the diaspora, and beyond. as we evolved, we opened the submissions to people connected to the mena region. we do not insist on creating geographic borders for submissions, but we do acknowledge that beirut's revolving door of influences and cultures, its history, and its perch on the mediterranean, is certainly at the heart of a unique convergence of voices.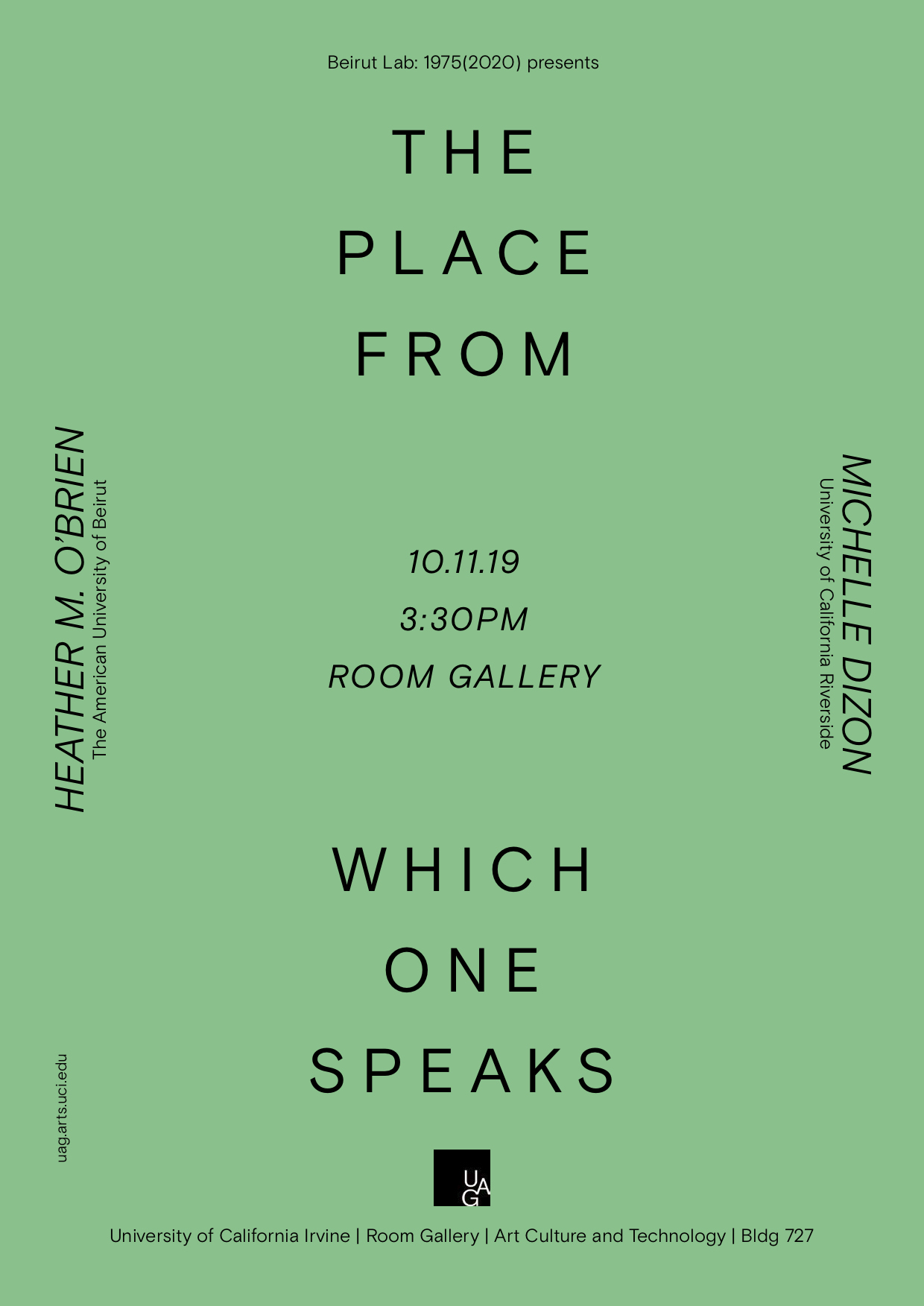 the place from which one speaks: a conversation with michelle dizon & heather m. o'brien
friday, october 11, 2019
3:30-6pm
room gallery
university of california irvine
in conjunction with the exhibition
beirut lab 1975 (2020)
, this dialogue will explore what it means to make image-based work about a place when the author is not understood to be from that place. how are understandings of "place" made and what subjective and historical registers urge artists to ground their practice in a politics of solidarity. taking dizon's
gaza before the law
(2018), shot in los angeles and palestine, and o'brien's,
dyad gaze
(2019), shot in beirut, lebanon as starting points, the artists will discuss the privilege of mobility, decolonial strategies for documentation, the legacy of images of war and domesticity, and trinh t. minh-ha's idea of "speaking nearby." o'brien was a student of dizon's at calarts from 2011-2013, in courses including
visualities and the alterglobal
,
the work of war in times of art
, and
feminism in translation.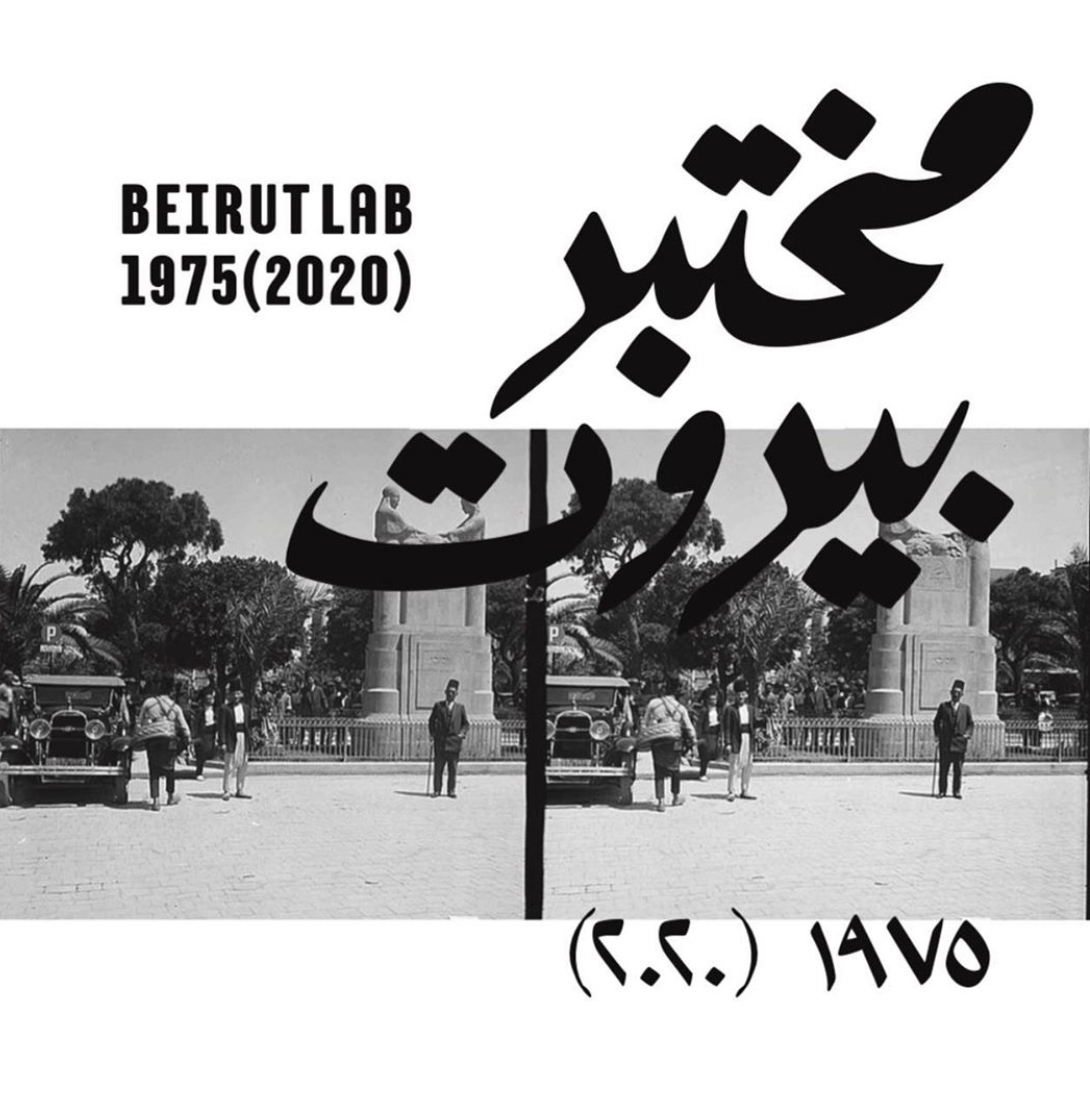 beirut lab: 1975(2020) or again, rubbed smooth, a moment in time__caesura
october 5 – december 14, 2019
room gallery
university of california irvine
claire trevor school of the arts
curated by juli carson and yassmeen tukan
in [a] gödel universe, it is provable that there exist closed time-like curves such that if you travel fast enough, you can, though always heading toward your local future, arrive in the past. these closed loops or circular paths have a more familiar name: time travel. but if it is possible in such worlds, as gödel argues, to return to one's past, then what was past never passed at all.
- palle yourgrau, a world without time, 2004
when we look out into the world and ask, "where is art," we are really pondering, "when is art?" for contemporary space is reciprocally – and inextricably – bound up with historical time. such that, art is always in transit; not only in its various spatial adaptations throughout history, where we encounter it, but in its temporal apparitions, at once past, present and future. quantum mechanics has a name for this phenomenon: space-time.
the subject of
beirut lab: 1975 (2020)
– a film installation – features contemporary film essays produced by artists living and working in beirut, a site where time bends and curves, as in a gödel universe. here, as elsewhere, historical events are what semioticians call a "sliding signifier," an image-unit that floats between the past, present and future, then back again in one's mind. counter-intuitively, beirut is also a city where particular events function as a kind of collective caesura – an historical blank space – within cultural consciousness. the most prominent of these events being the lebanese civil war, 1975-1991, which has (and continues) to provoke critically minded artists to engage in a type of hermeneutic aesthetics of past moments in time.
for instance, artists of one generation, who were in primary school in the seventies, wrangle with screen memories of that moment, which can neither be completely remembered nor forgotten. alternately, a younger generation of artists attempts to untangle that which they never knew themselves but which they have inherited as a gap in lebanon's state sanctioned national history. but, already, this generational schema is a bit too tidy. for there are those artists in the region whose artwork critically investigate the more general question of memory, history and, therefore, temporality, by subtending the perspectival positions of the aforementioned generational lines. the film essays featured in beirut lab: 1975(2020), showcase all three such perspectives.
films by: basma alsharif, panos aprahamian, mohamed berro, gregory buchakjian and valerie cachard, ali cherri, toni geitani, daniele genadry, amer ghandour, ahmad ghossein, ghassan halwani, mustapha jundi, nadim mishlawi, heather m. o'brien, raed and rania rafei, walid sadek, ghassan salhab, mohamed soueid, rania stephan, and jalal toufic.
a film program of 30 films screened over five days a week, for ten weeks. each day's grouping – an essay of film-essays – ponders the imbricated questions:
when in time is beirut? where in beirut is time?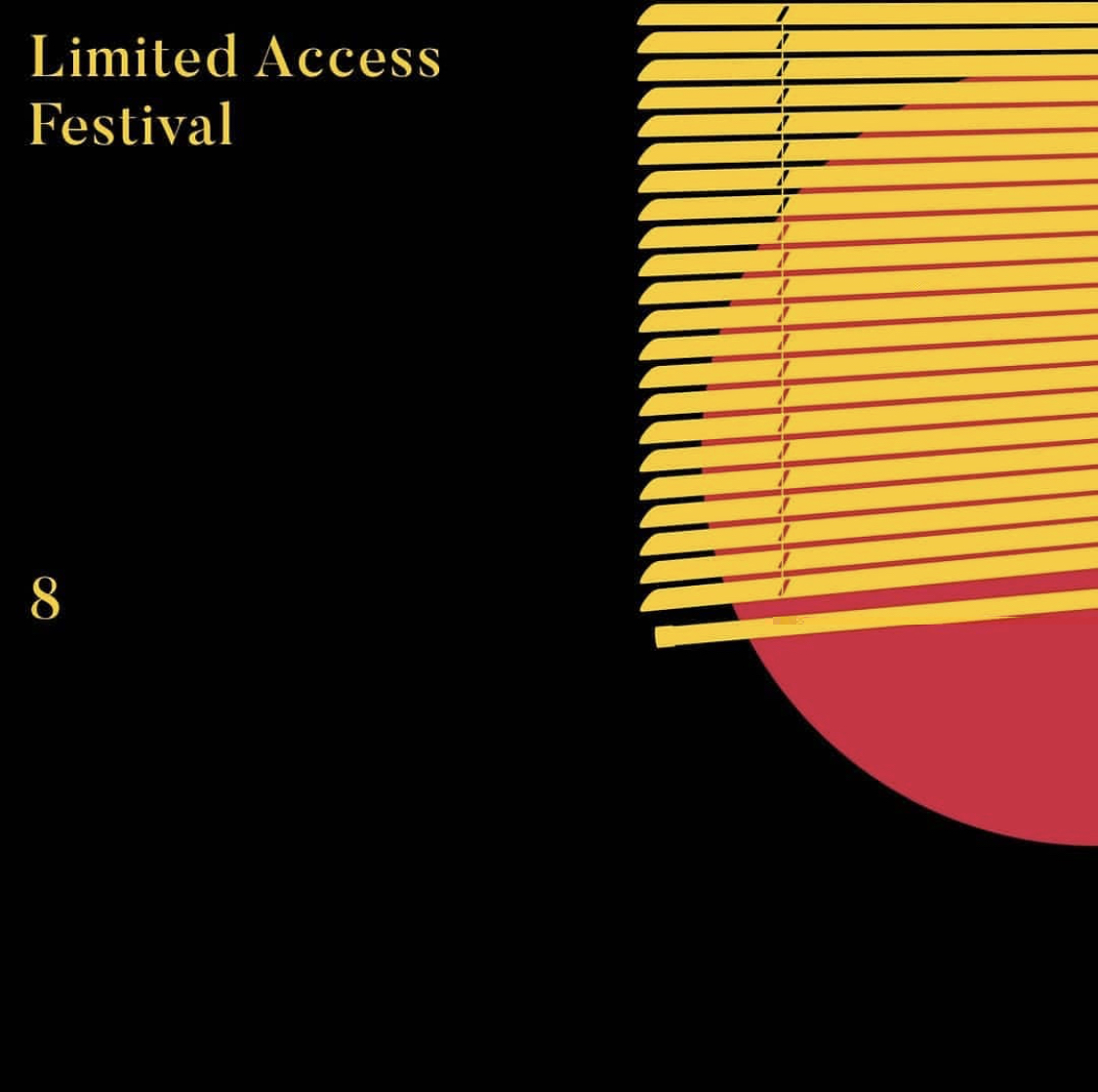 limited access festival 8: moving images, sound, & performance
july 26 - august 2, 2019
aaran art gallery
tehran, iran
curated by nebras hoveizavi
how does the examination of the every-day lead to the extra-ordinary? how does a group of still people transmit such a sense of urgency to produce the desire for reaction and creation? how do melting materials and their melting sound lead to such a dark place in humanity?
limited access festival 8 will provide the space and the time where moving images will poetically present these issues and bravely propose these questions. your eyes will follow, as will your ears, and you will find that your senses, together with these artists, will create meaning beyond words and above an ordinary understanding of reality.
limited access festival 8 is organized by parkingallery projects in collaboration with aaran art gallery, tamaas foundation, and new media society in partnership with tirafkan foundation, no-ein space, platform 3 & bidar institute.
parkingallery projects founded limited access festival in 2007. parkingallery projects was a small project space in tehran which started an independent festival for video, sound, and performance. since then, limited access has been featuring many prominent and emerging artists from iran and across the world. in addition, the festival presented guest-curated international programs and offered an archive section which provided a moment to look back in the history of moving images/video, experimental films and extract practical material the parallel educational programs.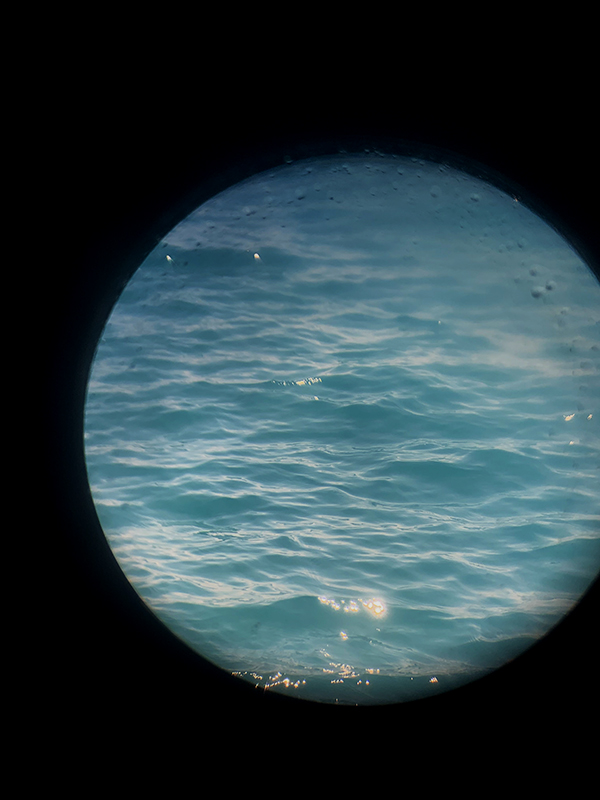 FLOATS (floating laboratory for action and theory at sea)
june 28 - 30, 2019
the archipelagos institute of marine conservation
samos, greece
a three-day working meeting took place between the archipelagos institute of marine conservation and FLOATS (floating laboratory for action and theory at sea). the aegean explorer boat hosted the meeting en route in the eastern aegean sea. main objectives of the working meeting included: the launching of a "inter-mediterranean school of the sea" for the collection, processing and exchange of sea-borne knowledge between scientists, academics, artists, activists, and local communities and the preparatory steps for the "archives of the sea" which, while reviving the ancient seaways of the mediterranean, aim to document, map and highlight the common maritime heritage of its peoples.
FLOATS consists of academic researchers in social anthropology, politics, history, art, architecture and political ecology from greece, egypt, lebanon, spain, italy, cyprus, turkey and the USA. the project is an experimental platform dedicated to teaching, research, public engagements and awareness about the social sciences of the sea. one of our main objectives is to offer a continuous critical commentary on the perils of our dominant territorial frameworks. it is a platform that invites academics, artists, activists, and sea-oriented professionals to rethink the sea.
with a face of golden pleasure, elegantly destroy
april 9, 2019, 12:30pm
the center for arts and humanities
the american university of beirut, lebanon
screening of past works and research around a new essay film project. the filmmaker heather m. obrien will be in conversation with noor tannir and jonathan takahashi. the dialogue will be moderated by walid sadek.
water is never still. and what else to say about water, after having seen the immense walls of dark stones of the palaces and old houses of beirut, except that water continues to love and to destroy the fortress of spirit that characterizes lebanon. water reduces this spirit of conquest and of negation of old lebanon to walls of canvas whose gashes are death for matter and a window for the liberation of the mind. water, therefore, should be thought only in relation to its sites, and within the civilizations to which it belongs.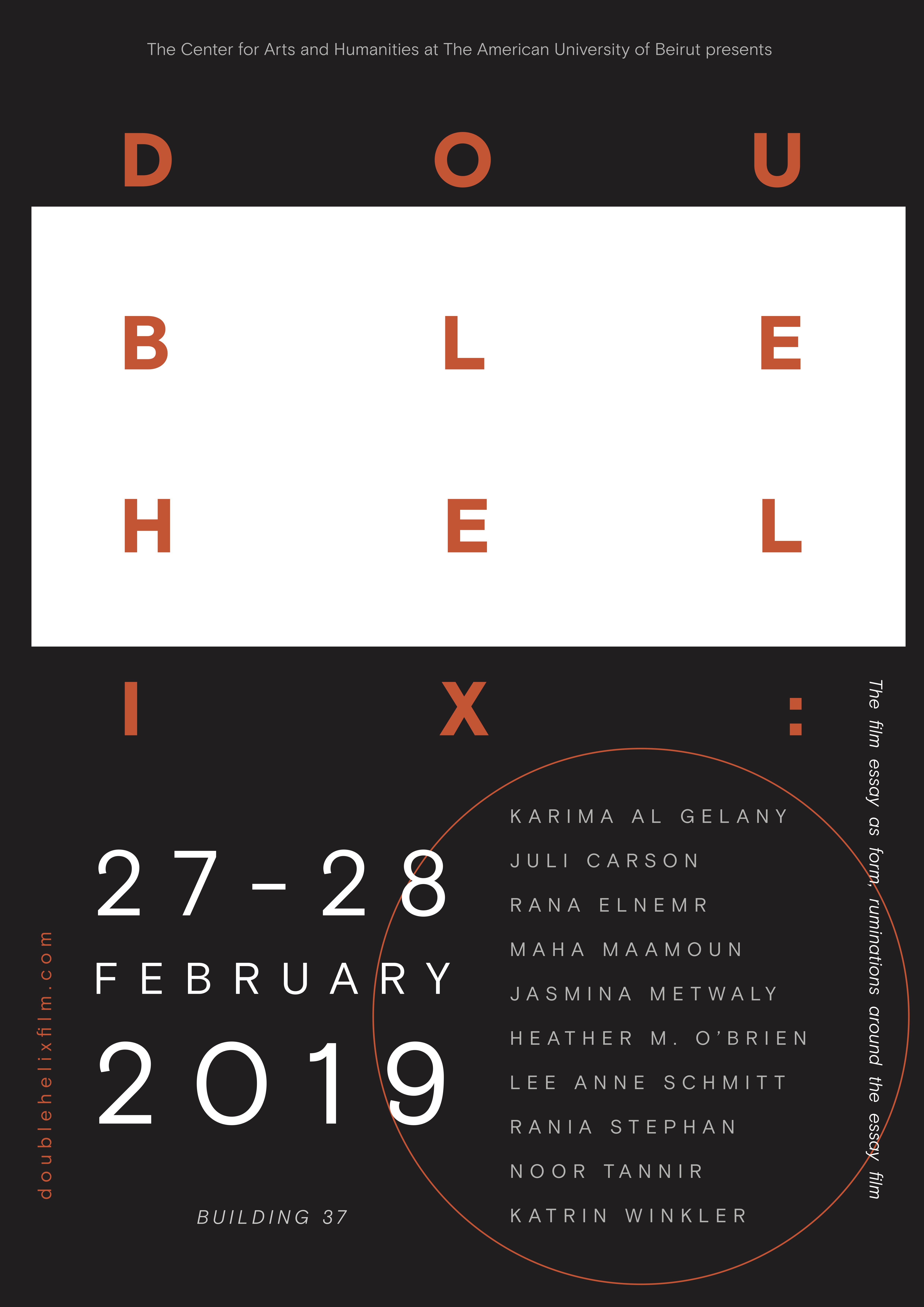 double helix: ruminations around the essay film, the film essay as form
february 27 - 28, 2019
the center for arts and humanities
american university of beirut, lebanon
how do we make sense of the polemical term 'essay film' as well as the phrase 'double helix,' an expression coined by the late filmmaker harun farocki? since the 1960s, artists have explored the narrative enigmas of the film essay. still photography—cinema's ghostly parent—was eclipsed by the medium of film, but also set free. the rise of the moving image also obliged photography to make a virtue of its own stillness. perhaps the essay film envied the simplicity, lightness, and precision of photography, and, as chris marker showed us in la jetée (1962), it would be possible to create a compelling science-fiction film composed almost entirely of black-and-white photographs.
but what is a film essay today, in our contemporary moment of fleeting images? is it a portrait, a conversation, a political statement, a question? to ponder this we look at frames made by four generations of moving-image makers—born in years ranging from the 1960s to the 1990s—this constellation of artists aim to challenge the traditional notion of the essay film in spaces ranging from beirut to cairo, namibia to detroit.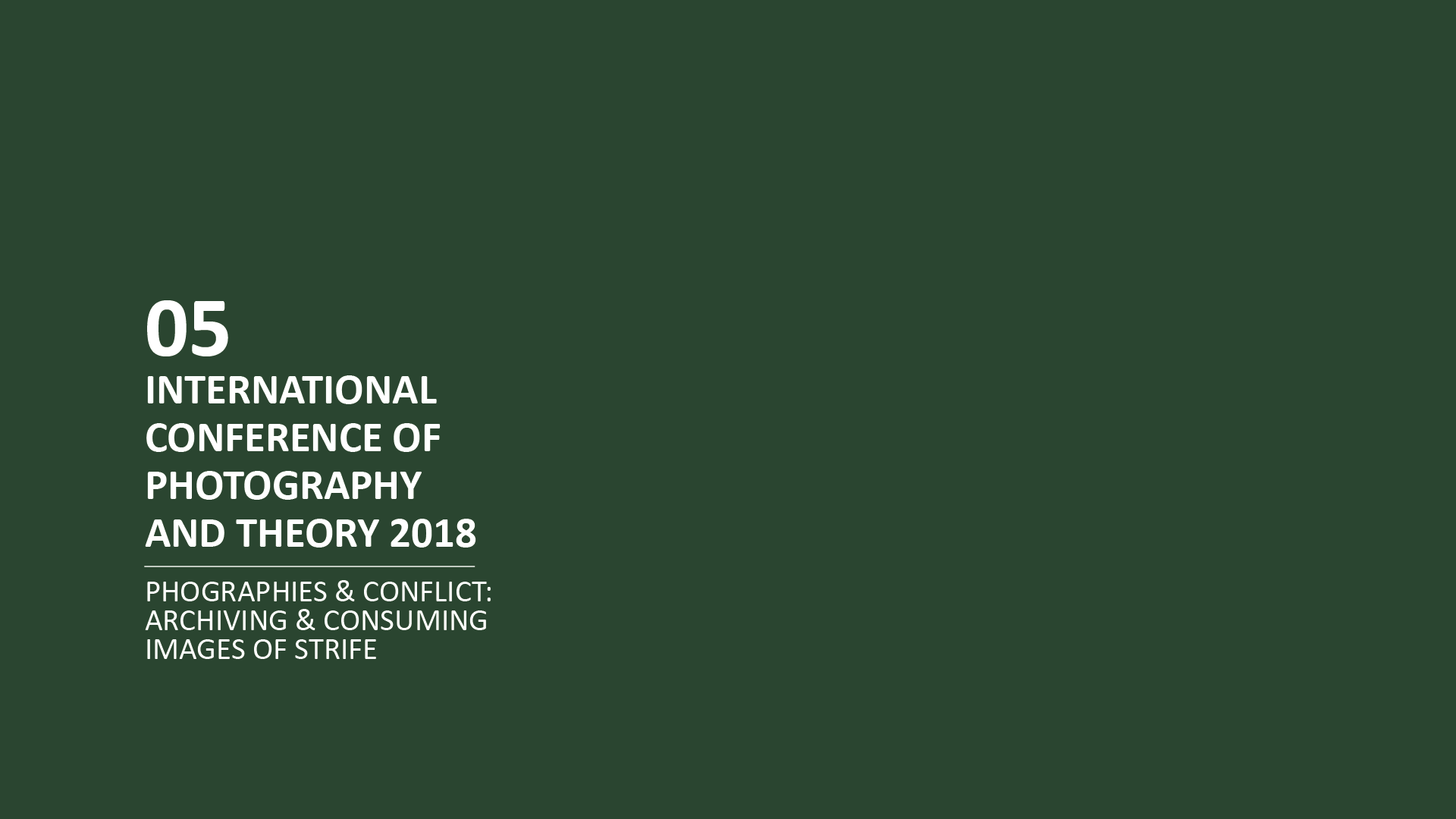 photographies and conflict: archiving & consuming images of strife
the 5th international conference of photography & theory
famagusta gate
nicosia, cyprus
november 22–24, 2018
as drones fly over our heads surveying our movements, it becomes evident that the fast evolving technologies of capturing images of war and violence have resulted, among other things, in an unprecedented extent of spectacles of conflict. anaesthetised and disconcerted because of our repeated encounter with the visual representation of the ever increasing instances of strife, the potential democratic role of photographic images in addressing how we understand notions of pluralism, control, manipulation, terror and erasure gains precedence as we realize our numbness due to over-exposure.
propaganda, resistance and activism are re-narrated through a post––and yet neo-colonial frame of political intervention, control and detention by world powers, while the presence of photographic images of conflict has become firmly relocated, placed within contemporary art practice and the museum space. at the same time, due to the proliferating technologies of production, the multiplicity of photographic practices, genres, uses and migrations of photographs, we are compelled to start thinking about photographic endeavours in terms of a multitude of photographies instead of the singularity of photography.
the 2018 international conference of photography and theory interweaves the ideas of the conflictual and the archival in relation to the photographic image. the open call is shaped on the basis of three thematic strands: archiving photographies; conflicts and photographic mediations; photographies and conflict as cultural product.